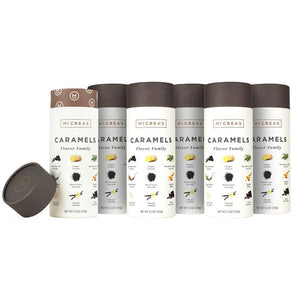 Flavor Family Tubes
The petite version of our mouthwatering caramel assortment.  Filled with two pieces each of nine flavors of our delicious caramel, this sleeve is the ideal gift for caramel lovers. Filled with traditional and unexpected favorites, there's something for everyone. 
Dark Roasted Mocha, Ginger Fusion, Rosemary Truffle Sea Salt, Single Malt Scotch, Black Lava Sea Salt, Tapped Maple, Cape Cod Sea Salt, Classic Vanilla, Deep Chocolate.

INGREDIENTS: Click on each flavor above for ingredients.
Available in cases of 6 only.